America Runs 5K
September 2017 - Corporate Partners
CHALLENGE YOUR COLLEAGUES, THEIR FAMILIES, CLIENTS, VENDORS AND OTHERS TO ... #GetFitGiveBack.
SIGN UP TODAY AND JOIN OUR NEXT AMERICA RUNS 5K.
WHAT IS AMERICA RUNS 5K?
------ x ------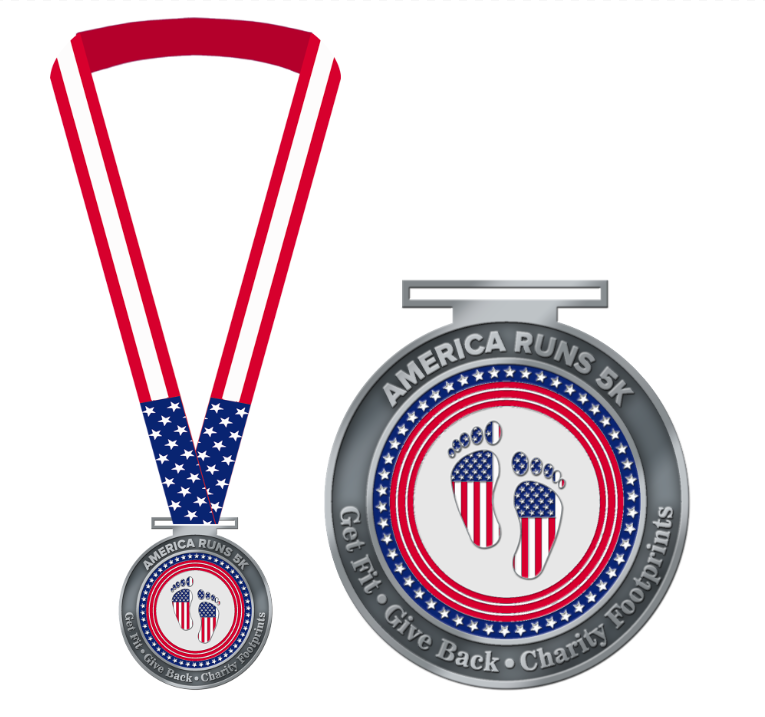 America Runs 5K (AR5K) is a 15-day fitness challenge organized by Charity Footprints, Inc. in which Individuals and Corporations join a non-profit's team to get fit and give back.

Fitness Incentives: Over this 15-day challenge, AR5K participants run, walk and ride anywhere & anytime and track their workouts on our free iOS & Android mobile applications. Charity Footprints donates $2 to the non-profit for each day that a participant tracks at least a 1-mile workout. For example - If a participant finishes at least a 1-mile workout for each day of the challenge, they earn $30 for the non-profit team.

Non-Profit Causes: Charity Footprints invites different non-profits for each challenge and your team members can pick any cause of their choice. That said, if there is a particular (or a list) non-profit cause that you'd like to support, please email us at support@charityfootprints.com and we'll get them added to the participating non-profit list.

Peer-to-Peer Fundraising: In addition, each AR5K participant gets a personal fundraising page to rally support & raise funds from their friends, family and loved ones. Participants can amplify this support by requesting matching donations from their employers, sharing their workouts on social networks, and engaging with non-profits by volunteering after the challenge is over.

Swag 'n More: Each participant who completes at least a 5K (total workout distance over 15 days) receives a beautifully crafted 3" America Runs 5K race medal.

Leaderboards: You will have access to a leaderboard dedicated to your organization. This acts as a great motivating factor in fitness compliance and breeds some healthy competition. You'll also have access to a global leaderboard to see how your team members are stacking up against other AR5K participants.

As a token of appreciation, we'll make sure your organization's logo and website is listed on the campaign website and on our social media and email marketing campaign.
HOW IT WORKS?
------ x ------
During the campaign
Corporate partners buy spots for America Runs 5K.
Participants choose a non-profit they want to support.
Participants run, walk, ride to earn donations.
After the campaign
We donate fitness incentive amount to the non-profit.
We ship out race medals to participants who cover over 5K (~3 miles).
CAMPAIGN TIMELINE
------ x ------
| | |
| --- | --- |
| Corporate Partner Application | Open Now |
| Application Fee | Min. 4 Spots ($50 per spot) |
| Participant Registration | Starts Aug 25th |
| Fundraising | Starts Aug 25th |
| Fitness Tracking | Sep 16th - Sep 30th |
PARTNERSHIP BENEFITS
------ x ------
Only pay for the number of spots you need (minimum 4)
Individuals can pick the cause they want to support
Branding on web pages, e-mail & social media channels
PARTNER DETAILS
------ x ------