America Runs 5K - Team Family to Family
Get Fit. Give Back. Earn A Medal.
READ MORE ABOUT THE CAUSE
------ x ------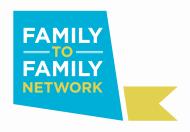 FAMILY TO FAMILY NETWORK
About:
In 1993 a group of young parents of children with disabilities came together with a shared vision that the future of their children would not be dictated by a diagnosis. It is a vision where schools, professionals and families work together to create communities where children with disabilities are included, valued and encouraged to pursue their dreams. For more than 20 years, F2FN has helped families in building relationships with their schools; effectively communicating their child's needs, and creating positive visions for the future. Our ultimate goal is to improve educational outcomes for children with disabilities so they can live quality lives and accomplish whatever goals they may desire. Success for children with disabilities should be pretty much the same as it is for children who do not have a disability: Employment, post secondary education, continued training, and interdependent living (we all get support from someone!). Disability just sends families on a slightly different path in reaching that dream. When families can create a clear vision for their children's future - Success is possible. Please help us continue helping families realize the Possibilities there are for children with disabilities.
Mission:
The mission of Family to Family Network is to empower families of children with disabilities by providing information, training, referral and support. We help families to successfully navigate complex educational, medical and social service systems so their children can reach their potential and be included in schools and communities.
TEAM MEMBERS
------ x ------

maryjane


$ 345 raised of $ 250 USD

Balwinder



Meghan



Carmen



metha



Pari



Melanie


$ 845 raised of $ 250 USD

Eileen



Neeta



Eileen



Tejal


CONTRIBUTORS
------ x ------